Ebanel Bio Drying Acne Treatment
This is an effective, award-winning over-night Acne solution. Ebanel Bio-Drying Lotion is known for its ability to help dry up surface blemishes overnight!

This fast-acting, effective spot treatment is specially formulated with Salicylic Acid, Sulfur, Camphor and Calamine to help draw impurities from the skin and target pesky problems while you sleep.
Overnight acne spot treatment
Reduce blemishes & prevent future breakouts
Fast-acting, effective
Safe for sensitive skin, paraben and sulfate free
Skin Types: Oily, Acne-Prone, Sensitive, Mature, Normal, Combination, Dry
Skin Concerns: Acne, Large Pores, Whiteheads
Application: Face, Body
Benefits:
Our non-irritating formulation of acne-fighting ingredients works as quickly as overnight. Use on the face and body for clear, smooth, blemish-free skin, without the harsh irritation or dryness seen with other spot treatments.
 
     • Overnight acne treatment
     • Dries out blemishes & prevents future breakouts
     • Fades redness
     • Unclogs blocked pores
     • Shrinks pimples & whiteheads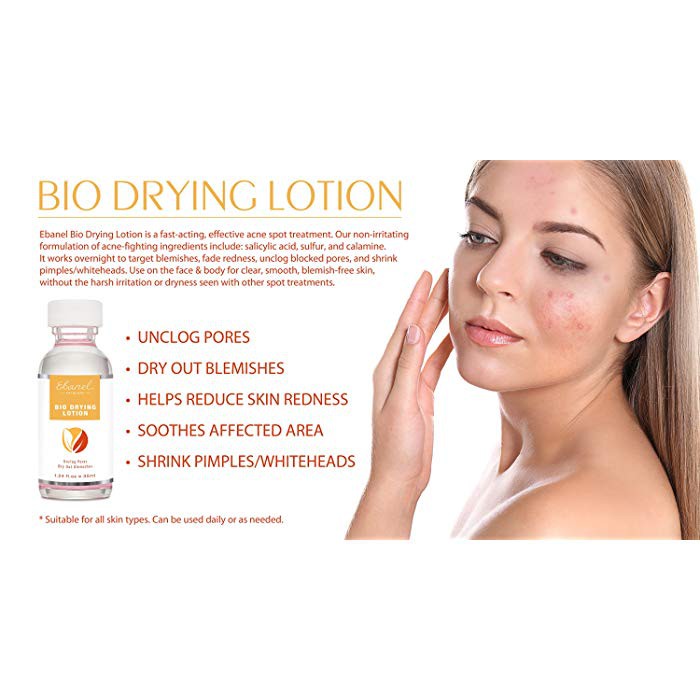 How to Use:
Important | Warnings:
Do not shake before use, allow the product to settle in the base of the bottle.

Dip a cotton swab into the sediment and dab onto affected areas.

For optimum results apply overnight or for at least 2 hours before removing with warm water.

Do not use on broken skin; stop use if rash or irritation occurs.
Complete Ingredients:
Isopropyl Alcohol, Water, Calamine, Zinc Oxide, Titanium Dioxide, Sulfur, Camphor, Glycerin, Salicylic Acid
Clean Beauty
Basic, Affordable & Effective
Our products are carefully selected based on the formulation and ingredients. Heavy on science, light on gimmicks. Feel free to WA us for a free 1:1 complimentary skin consultation.
AROMATHERAPY
Relax, Calm & Destress
A great alternative to candles, using essential oil diffusers is a perfect way to help you relax, revive and enjoy the benefits of aromatherapy.
For those that struggle to sleep, some calming lavender, vetiver, cedarwood will work wonders. 
SHOP FOR ESSENTIAL OILS HERE