HD Acne Solution 2% Salicylic Acid Serum
HD Acne Solution is lightweight and easily absorbed. 2% salicylic acid exfoliates and promotes faster cell regeneration to minimize the appearance of blemishes, redness, large pores and wrinkles.

• Exfoliates the outer layer of the skin
• Unclogs pores and controls excess oil
• Removes blemishes and red spots
• Smooths and evens skin tone
• Free of parabens, MI/MCI, colorant,
alcohol and fragrance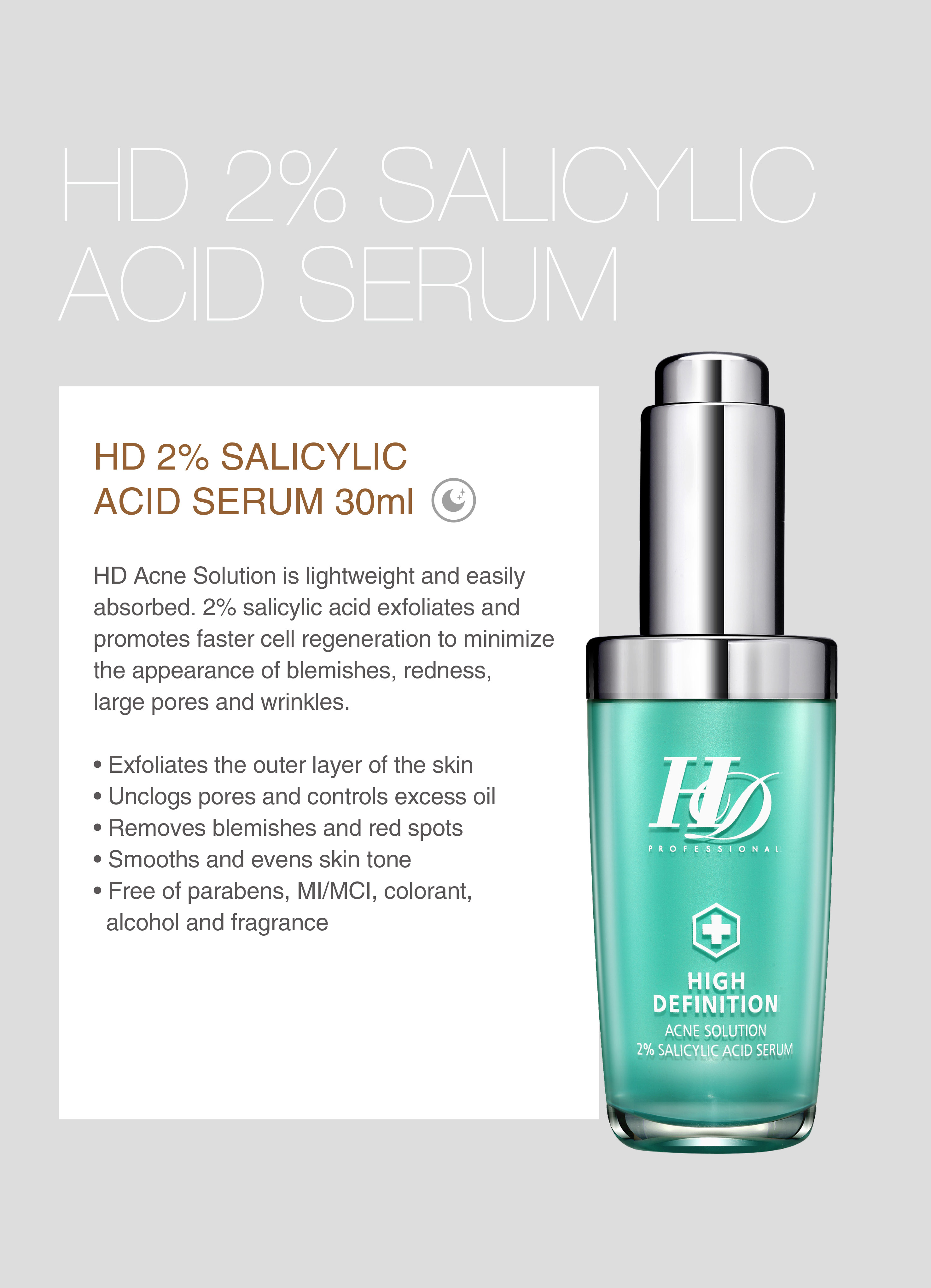 How to use: 
Apply HD 2% Salicylic Acid Serum after cleansing and applying toner, maximum once a day.
Ingredients: 
Active Ingredient: Salicylic Acid 2%
Other Ingredients: Water, Propylene Glycol, Coceth-7, PPG-1-PEG-9 Lauryl Glycol Ether, PEG-40 Hydrogenated Castor Oil, BIS-PEG-18 Methyl Ether Dimethyl Silane, Methoxy PEG-18, Tocopherol, Propanediol, Glycerin, Sodium Lactate, Glycolic Acid, Sucrose, Urea, Sodium Citrate,Malic Acid, Tartaric Acid, Betaine, Potassium Hydroxide, Chlorphenesin, Phenoxyethanol, Dipotassium Glycyrrhizate, Sodium Hyaluronate, Menthyl Lactate, Xanthan Gum, Epilobium Fleischeri Extract, Citric Acid, Potassium Sorbate, O-Cymen-5-ol, Hydrolyzed Hyaluronic Acid, Tocopheryl Acetate, Tripleurospermum Maritama Extract, Sorbic Acid 
Clean Beauty
Basic, Affordable & Effective
Our products are carefully selected based on the formulation and ingredients. Heavy on science, light on gimmicks. Feel free to WA us for a free 1:1 complimentary skin consultation.
AROMATHERAPY
Relax, Calm & Destress
A great alternative to candles, using essential oil diffusers is a perfect way to help you relax, revive and enjoy the benefits of aromatherapy.
For those that struggle to sleep, some calming lavender, vetiver, cedarwood will work wonders. 
SHOP FOR ESSENTIAL OILS HERE