Luthioneade (Supplement)
Get pigmentation-free skin with the best antioxidant Luthioneade. 
Glutathione powder from Korea nourishes the skin, accelerating the renewal of old skin cells Gentle new skin Focus on good internal organs to work efficiently. Adjust the balance in the body. 
Product contains 20 sachets, over a period of 10 days.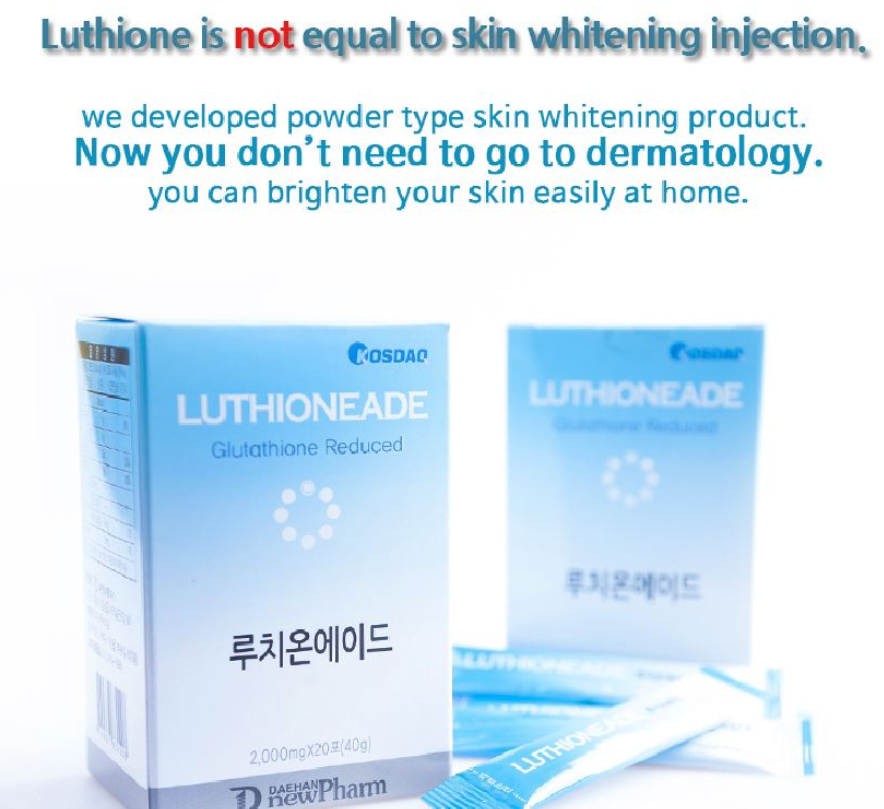 Benefits Include:

Whitening
 Add amino acids
Anti-inflammatory effect
Liver detoxification
Prevent heart disease
Prevent respiratory diseases
Heals wounds in the skin caused by the large intestine
Reduce hair loss
Anti-aging skin
Strengthen the immune system, eliminating toxins, eliminating carcinogens
Antioxidants protect cells, synthesize and repair DNA, synthesize proteins.
Minimum movement, enzyme activity and control from ionizing radiation
There is now a way to attain a healthy body and beautiful skin at the same time. Developed by Daehan New Pharm, the whitening functional Luthioneade powder satchets is your perfect skin caretaker. This product is not a Korean best-seller for nothing. It is mainly made up of glutathione (GSH), the powerful antioxidant compound known to repair and regenerate body cells.
Attain the desired white skin in the healthiest way possible
Luthioneade has demonstrated through studies to manage the skin complexion by cleaning it off of free radicals and unhealthy substances, at the same time dipping down melanin production for the whitening effect. Once your skin is refreshed and distilled from impurities, it will feel supple and full.
Not only skin-healthy but also light-minded!
Yes, you heard right. Glutathione is an effective enzyme with many health benefits, among which are improving depression and mood swings. This powerful ingredient has been studied for ages, and it has proven itself countless times as an anti-aging, anti-hair loss and anti-black spot measure too. A natural bodily enzyme on the actual, glutathione levels decrease over time and its defensive qualities are lost in our body. Consider Luthioneade as a supplement to give back to your body the materials it needs to fight against free radicals, viruses, and toxic substances.
Strengthen your body with Luthioneade
The powerful antioxidant glutathione is considered a 'tripeptide': a three-amino-acid-composite of glutamine, glycine and cysteine. It basically brings strength back into our bodies through the cell level by reducing oxidative stress which in turn reduces diseases. Heart-disease, cancer-related disorders, liver toxification, inflammation- these are the major problems glutathione fights against and wins over. In addition, your pimples and acne will also benefit from the purifying abilities of glutathione and you will experience a long-needed skin relief.
No need for TV-commercialized injections; Luthioneade is the safe route to take
Be it celebrities or beauty enthusiasts- glutathione has made fame through injections. The results are satisfactory; however, these vitamin drip infusions are quite the hassle. Note that Luthioneade is not the same as skin whitening injections, but rather a powder form of skin whitening product. This means that you won't have to put yourself through hurdling dermatological consultations or financial expenditures. Luthioneade is your safe way to acquire similarly effective results and strengthen your body into a healthier structure.
Take on a 10-Day Challenge for glowing skin and healthy body
Be practical and solve your skin problems from the roots. Luthioneade promises to brighten your skin into a glowing complexion and suppress the formation of acnes, blemishes and pimples. Do yourself the biggest favor by getting the Luthioneade powder satchets and watch your body and soul revolutionize!

Developed by korea's
medical doctors

How to Consume:
2 x Sachet per day 
1 before breakfast, 1 before bedtime 
Note: Consume straight into mouth for best result
Have you ever wondered how Hollywood celebrity, Beyonce has maintained her beautiful and glowing skin all those years?
VITAMIN DRIP INFUSIONS FAIN FAVOR IN HOLLYWOOD

Simply, through skin whitening injection of Luthioneade! But
kudos to Daehan New Pharm's Luthioneade that now you could easily acquire the similar revolutionary results from the comforts of your home without running to your dermatologist,
every now and then, as it is
eatable powder based injections which you could use easily.


WHITENING DRIP IN CLINICS/HOSPITAL COST AT LEAST $300 PER TRIP WITH 1200MG GLUTATHIONE

OUR EATABLE POWDER CONTAINS 2000MG GLUTATHIONE !!
Therefore, results are visible within short period of time!
Primarily, Luthioneade is composed of Glutathione, a 'master antioxidant' already exists in our bodies, but with time and external stimuli, its levels get reduced.  However, in case of optimum levels, your body feels a flush of energy and power, as it repairs body cells and promotes regeneration. You would notice a big boost in your immune system as free radicals and toxins would be expelled out of your body rapidly. As a result, you would achieve youthful and supple skin with a brightening effect.

Studies have suggested that Glutathione is effective in dipping down the melanin production, which implies that the skin experiences a lightening effect. Moreover, Glutathione is vital in protecting body from viruses and pathogen invasion, like cancer, AIDS, liver diseases etc. It is found to be crucial in improving depressions and mood swings. So much in just one element! Wow, Glutathione simply sweeps everyone away.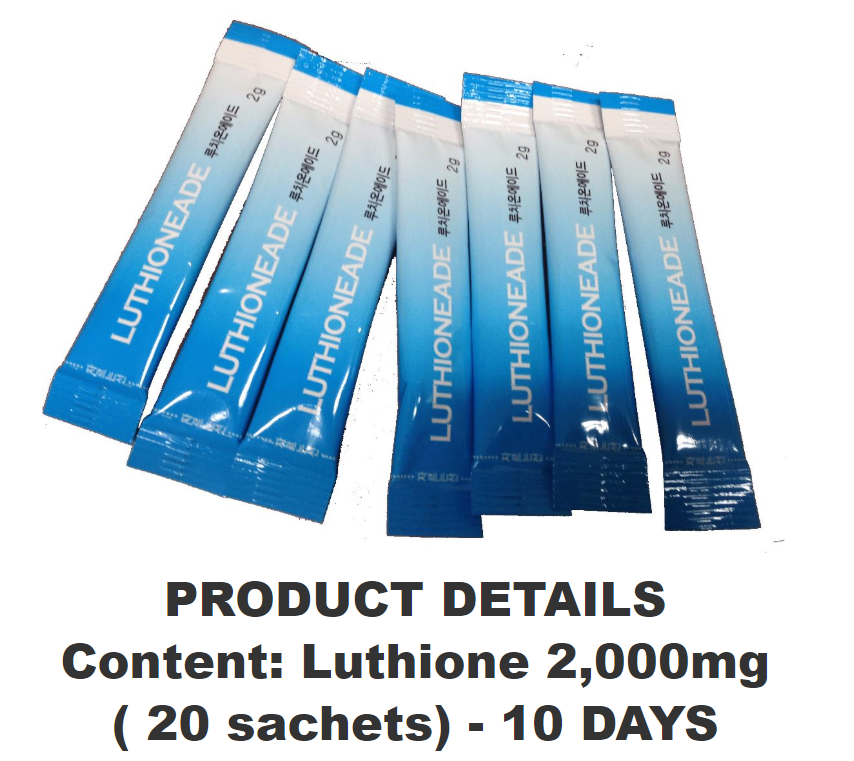 How to Use:
Add the contents of one sachet to water or other of your favorite cold beverage. 
Ingredients:
Refined Glucose, Lemon Flavor Powder, Anhydrous Citric Acid, Xylitol, Sodium Citrate, Vitamin Mineral Mix (as follows), Whey Calcium, Vitamin C, Vitamin E Mixed Powder, Zinc Oxide, Iron Lactate, Nicotinic Acid Amide, Vitamin D Mixed Powder, Vitamin A Mixed Powder, Vitamin B6 HCL, Vitamin B1 HCL, Riboflavin, Folic Acid, Rubus Coreanus Juice Powder, Mixed Lactic Acid Bacteria (as follows), Maltodextrin Mixed Powder, Vegetable Cream Mixed Powder, Bfidobacterium Longum, Lactobacillus Acidophilus, Lactobacillus Plantarum, Lactobacillus Casei, Streptococcus Thermophilus, Amino Acid Mix (as follows), L-Phenylalanine, L-eucine, L-Methionine, L-Lysine HCL, Palationse, L-Isoleucine, L-Valine, L-Histidine, L-Threonine, L-Tryptophane, Ascorbic Acid, Dry Yeast, Chitooligosaccharide, Snail Extraction Powder, Chinese Yam Powder.


Storage Condition: 
Keep tightly closed in a dry place. Store at temperatures not exceeding to 25 degree celcius. Protect from direct sunlight. 
Caution: 
Consult physician prior to use for allergic consitution. 
DO NOT USE IF SAFETY SEAL IS DAMAGED OR MISSING.