MiraCleaner Makeup Brush Cleaner (2 Colours)
Professionals recommend you clean your makeup brushes every 2-4 weeks, but traditional cleaning methods are messy, laborious and can leave brushes wet and unusable for up to 24hrs. MiraCleaner Makeup Brush Cleaner leaves brushes clean and dry, ready to use in just 30 seconds! 
Gone are the days of 24hr brush-cleaning times! The MiraCleaner Makeup Brush Cleaner is an electric makeup brush cleaner designed to fit your busy schedule. The electric spinner used in combination with our spill-proof wash bowl will change the way you clean your brushes, forever. 


3 Steps only! 



Insert brush into the appropriate mould and attach to spinner
Dip brush into bowl with soap water or brush cleaning solution for 30 seconds 
Spin dry, repeat if necessary 

Eliminate breakouts and maintain clear skin. One of the primary reasons for breakouts is due to poor hygiene and using unclean cosmetics products. By reducing the time and simplifying the process to clean your makeup brushes, you can ensure the possibilities of breaking out due to poor hygiene and unclean brushes is brought down greatly. We recommend the use of MiraCleaner thrice a month to maintain bacteria-free makeup brushes.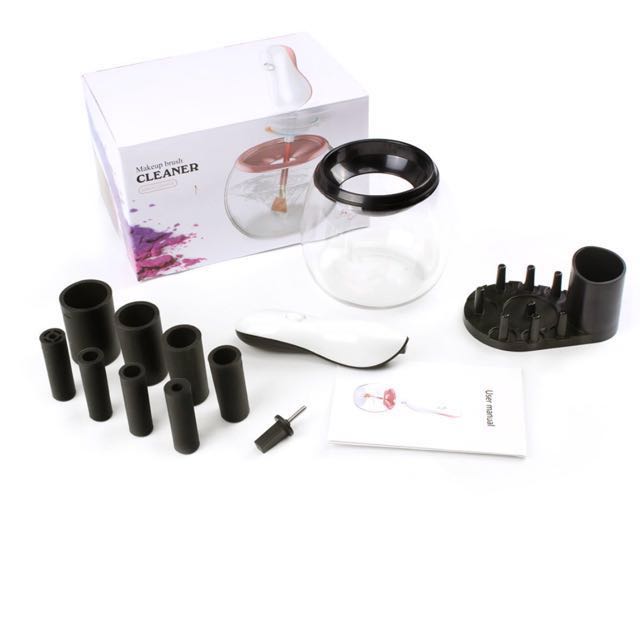 The MiraCleaner Kit includes: 
1 x MiraCleaner Device 
1 x Spindle 
1 x Wash Bowl 
1 x Neck 
1 x Ring 
8 x Collars 
1 x Base 
1 x Gasket 
This device is suitable for most makeup brush types (synthetic and natural), including lip liner, eye liner, eye shadow, concealer, primer, foundation, contouring, highlighting, kabuki, buffing, blending, fan, blusher, bronzing and powder brushes. 
Note: 2x AAA batteries are not included