HD Foil + Vit C Biocellulose Mask Bundle
1) HD Vitamin C Bio-Cellulose Mask, 25ml *4 
The HD Vitamin C  Bio-Cellulose Mask is formed of a specialised 20-Nanometer ultra fine fiber that fits perfectly on the skin and allowing serum to penetrate deeply. The 3D network structure that enables itself to retain a high volume of serum and enhances the skin's comprehensive moisturising and repair effect, further calms irritation and leaves a dedicate watery bright skin. 
Medical grade nanotechnology 
High absorption and adhesion 
Lightens and brightens the complexion 
Naturally lifts and firms 
Free of parabens, MI/ MCI, colorant, alcohol and fragrance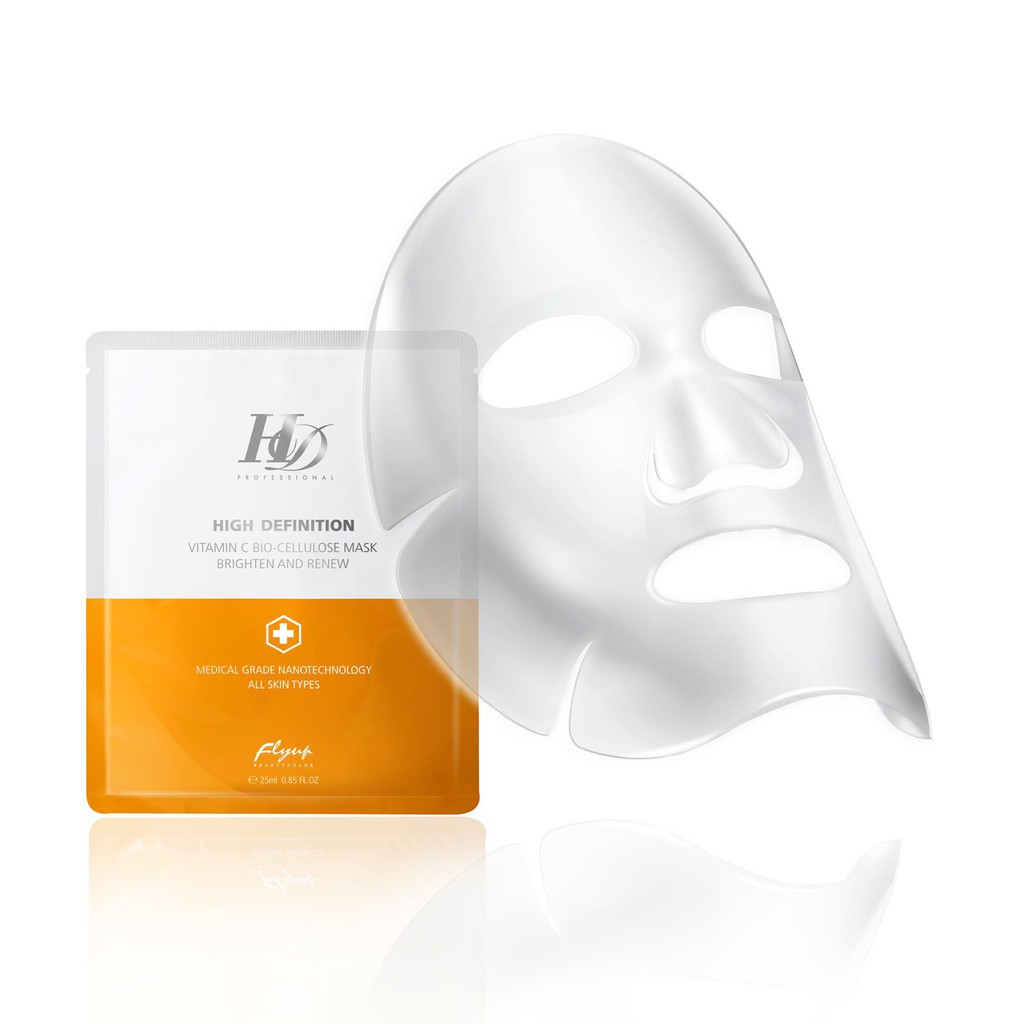 Key Ingredients: 
Corum 5150 (Azeclair),
Niacinamide PC (B3),
HA, Hyalo-Oligo,
Genencare OSMS BA,
Purisoft LS 9602
HD VITAMIN C BIO-CELLULOSE MASK
HD vitamin C biological fiber mask (25ml*4 in)
No Paraben Preservative × MI/MCI × No Colorants × No Alcohol

Using 3D composite mesh solid structure, 20 nm diameter biological fiber, so that the essence can effectively penetrate into the bottom of the skin. Contains high stable ethyl vitamin C to fade spots and brighten the skin tone with Swiss peptide 3, 12 peptide and vitamin B3, Improve skin balance and prevent skin aging. Cooperate with French tranexamic acid and hyaluronic acid, strengthen the moisturizing and repair ability, make skin white and bright.
What is biological fiber mask?
The FDA approved GRAS edible fungi, made of cellulose produced by biotechnology fermentation technology and made of mask material. It is safe to eat and drink mushroom and edible fungi. The U.S. Food and Drug Administration (FDA) approved the safety of GRAS mushroom species, made of cellulose produced by the latest biotechnology fermentation technology. Fibers are about 20 - 30 nanometers in diameter, about 1 / 1000 the diameter of hair, and are the finest fibers in nature, It was first used in the medical field for wound dressing.
It is a medical-grade material that can completely fit on skin, deep into skin texture and make effective ingredients absorb more quickly. The biological fiber itself uses 3D mesh structure, with excellent skin, can carry more essence, so the maintenance is better than traditional mask cloth!
coryza Complete three-dimensional structure produced by fermentation of single bacteria

1. ODT (Occlusive Dressing Treatment) Transmission system, mask and skin to establish semi-enclosed space. This space is gradually heated, so that the active ingredients into the skin, increasing absorption efficiency.

2.Grow facial fiber in a constant temperature and humidity free environment and treat it with high temperature and high pressure sterilization.

3. The SGS eight heavy metals, total bacteria count and mobile fluorescent substance detection - passed the testing 

4.Its fiber structure can be decomposed naturally by microorganism, no chemical substance, not easy to be sensitized, it is the green material that accords with environmental protection most.


How to Use:
After thoroughly cleansing the skin, remove the mask and remove the protective film. The translucent fiber mask is smooth and applied to the face. Remove after 15 minutes, gently massage the essence on the face to absorb, do not need to wash your face can be routine maintenance, suitable for all skin types.
Ingredients:
Butylene Glycol, glycerin, hydroxyethyl cellulose, sodium acetate, aqua, cellulose, ethyl absorbic acid, sodium hyaluronate, tranexamic acid, Dipotassium glycyrrhizate, niacinamide, chenpodium quinoa extract, propylene glycol, hydrogenated lecithin, glycine soja oil, oligopeptide-68, sodium oleate, disodium EDTA, hexanol dipeptide-3 norleucine acetate, lecithin, Xanthan Gum, chlorphenesin, phenoxyethanol, ethylhexylglycerin
2) HD Advanced Repair Concentrated Recovery Mask (Foil Mask) 
Our bestselling foil mask has recently been reformulated to improve the ingredient list! This new formula is much more hydrating as we have excluded potential irritatants like drying alcohols which were present in the older formula. We hope you all will love this new formula as much as we do! 


Fly Up HD Advanced Repair Concentrated Recovery Mask, High-Performance foil-backed sheet mask creates a protective barrier, allowing our Potent technologies to penetrate fast and deep within skin's surface and helping to lock in moisture, skin looks fresher and renewed.
Which skin type is it good for? 
✔ Normal 
✔ Oily 
✔ Combination 
✔ Dry 
✔ Sensitive 
Suggested Usage:
-Apply on clean skin, once a week at night. 
-Remove mask, carefully unfold, and apply bottom half first, then top half. 
-Leave on for 10 minutes, then remove the mask and gently massage in any remaining liquid.
HD Advanced Repair Concentrated Recovery Mask, High-Performance foil-backed sheet mask creates a protective barrier, allowing the potent ingredients to penetrate fast and deep within skin's surface and helping to lock in moisture. 
Expect to see clearer, brighter and more hydrated skin! 
 Made in Taiwan Formulated in France
*New formula as of 25 Feb 2019*
Ingredient:
Aqua, butylene glycol, glycerin, xantham gum, glycosyl trehalose, hydrogenated starch hydrolysate, phenoxyethanol, ethylexylglycerin, chlorphenesin, ppg-26-buteth-26, peg-40 hydrogenated castor oil, hydroxyethylcellulose, sodium acetate, cellulose, lentinus edodes extract, ganoderma lucidum stem extract, algae extract, zingiber officinale root extract, zizyphus jujuba fruit extract, glycyrrhiza glabra root extract, eugenia caryophyllus flower extract, prunus mume fruit extract, cnidium officinale root extract, Angelica acutiloba root extract, sodium hyaluronate, kappaphycus alvarezii extract, alpinia galanga leaf extract, caprylic triglyceride, lactobacillus, olea europea leaf ferment extract, codium tomentosum extract, snail secretion filtrate, nelumbo nucifera seed ferment filtrate, citric Acid.