Purito Deep Sea Pure Water Cream
For dehydrated oily skin, moist unscented watery cream!
This unscented watery cream is for dehydrated oily skin, formulated with 60% deep sea water to improve dryness and atopic dermatitis. It is a natural moisturizing cream that improves water-oil balance of skin and dryness with nutritious marine ingredients, such as green caviar, seaweed extract, and green tea extract. This healthy moisturizing cream is free of essential oils, fragrance and skin irritants and suitable for all skin types including sensitive skin.
PURITO Deep Sea Pure Water Cream is a whitening and anti-wrinkle functional moisture cream that contains sea grape and seaweed extracts to hold moisture in skin for a mermaid-like smooth and dewy skin.


 
A facial cream infused with 60% of deep sea water, caulerpa racemosa, and seaweed extracts to keep the skin moisturized and smooth.


 
Blended with 2% of niacinamide to brighten skin complexion.


 
Free from paraben, ethanol, PEG, and other harsh chemicals
Strong Point
1. Using the foundation or BB cream, you can produce effective close-up base makeup with excellent moisturizing.
2. Apply the cream all over your dry skin to moisturize and relieve itchiness.
3. A light tube-type moisture cream, rather than a heavy case, can be handy and comfortable.
4. Much more hygienic than case products as the tube-type product locks out air.
5. A formulation with abundant moisture that is light and soft, and non-runny.

How to Use:
Prep your skin your toner after cleansing.
Dispense a moderate amount and apply to the face evenly.
Gently pat for better absorption.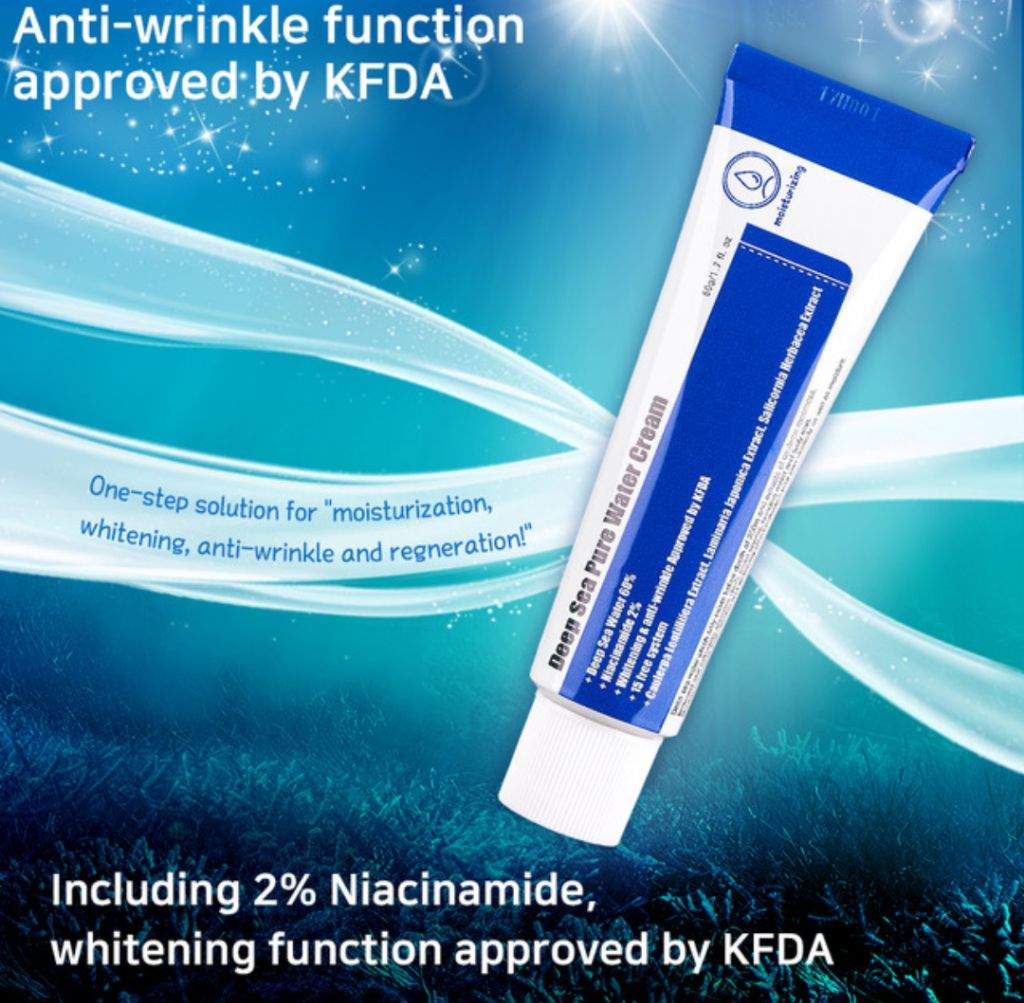 Ingredients:
Sea Water (60%), 
Dipropylene Glycol, 
Glycerin, 
Caprylic/Capric Triglyceride, 
Sodium Acrylate/Sodium Acryloyldimethyl Taurate Copolymer, 
Isohexadecane, 
Polysorbate 80, 
Sorbitan Oleate, 
Niacinamide, 
Phenyl Trimethicone, 
Cetyl Ethylhexanoate, 
Cetearyl Alcohol, 
Water, 
1,2-Hexanediol, 
Butylene Glycol, 
Sodium Hyaluronate, 
Panthenol, 
Ecklonia Cava Extract, 
Laminaria Japonica Extract , 
Caulerpa Lentillifera Extract, 
Salicornia Herbacea Extract, 
Allantoin, 
Macadamia Ternifolia Seed Oil, 
Adenosine, 
Sorbitan Stearate, 
Glyceryl Stearate, 
Carbomer, 
Arginine, 
Caprylyl Glycol, 
Ethylhexylglycerin ,
Disodium EDTA
Clean Beauty
Basic, Affordable & Effective
Our products are carefully selected based on the formulation and ingredients. Heavy on science, light on gimmicks. Feel free to WA us for a free 1:1 complimentary skin consultation.
AROMATHERAPY
Relax, Calm & Destress
A great alternative to candles, using essential oil diffusers is a perfect way to help you relax, revive and enjoy the benefits of aromatherapy.
For those that struggle to sleep, some calming lavender, vetiver, cedarwood will work wonders. 
SHOP FOR ESSENTIAL OILS HERE