Ahhh.. Summer goodness has resumed!
The borders have opened up, since 3 months ago. With more relaxed measures, such as no longer needing to quarantine upon arrival and return, to and fro your trip. You get to enjoy a new place normally without troublesome requisites.
Just like before COVID-19 hit.
So with this resumption of freely travelling, packing for your trip has suddenly become foreign, like a thing you have not done in forever, ringing true to some of you ladies!
Panic not, for we are here to give you a checklist of what you could pack for your upcoming trip! Be it to the US, UK or Paris to experience French culture, we think we just have the right beauty tools for you to stay covered for your trip.
Wherever you are, apart from Australia, the heat is hitting us badly these days. Given that it's Summer in most "angmoh" (Western and European) countries, some places in Asia are also affected by this Summer season of a climate.
Before we begin, we would like to remind you on the precautionary measures you'll have to undertake for your travels.
Your Mandatory Checklist:
1. Make sure you're physically updated on the latest vaccine, (getting the latest booster shot).
2. If you're suffering from any ailments, please pack along sufficient medical supplies.
3. If you love disposable masks, get your favourite dispensable masks with enough supplies to last you through your trip. (Cap at 3-4 masks a day.)
4. Now, your favourite outfits planned day 1 to day final. (Including swimsuits and gym wear).
5. And finally our expertise, SKINCARE! You'll want to look and feel your best on your long-awaited trip to somewhere outside your home country.
Ahhh where should we begin? We are experiencing a high dose of excitement to share this part with you.
Your Go-To Travel Skincare to fight the climate and all that heavy munching!
Start off with... 
1. Our travel-sized KEEP COOL BAMBOO MINIS
Comes with...
Soothe Bamboo Serum Cleanser 15ml
Contains 10% natural bamboo water, Jojoba Seed Oil and Cacao Extract to help prevent moisture loss after cleansing.
Soothe Bamboo Toner 30ml
Contains 85% natural bamboo water to help restore healthy skin balance, soothes and moisturizes skin with Hyaluronic Acid.
Soothe Bamboo Serum 5ml
Contains 66% natural bamboo water and 4.5% Centella Asiatica Extract, as well as Madecassoside to calm irritated and sensitive skin.
Soothe Bamboo Lotion 30ml
Contains 51% natural bamboo water to restore healthy skin balance, and 2% patented ingredient Derma-Clera to soothe irritated skin.
How does Bamboo benefit the skin?
Rich in Silica, it helps produce collagen within your skin, giving it a plumper and younger surface appearance. It also hydrates and give your skin a radiant glow!
On top of these, it comes with a set of stickers that gives you free reign to customise your KEEP COOL products with!
Click here to get: Can't go wrong with this Bamboo Mini kit!  
If you need additional support from a no-acids serum, below is one that will spoil you with choices. Different day, different skin, this will suit your ever-changing skin. 
Boasting 3 different variations, you'll get to try 3 different serums at only 30 SGD.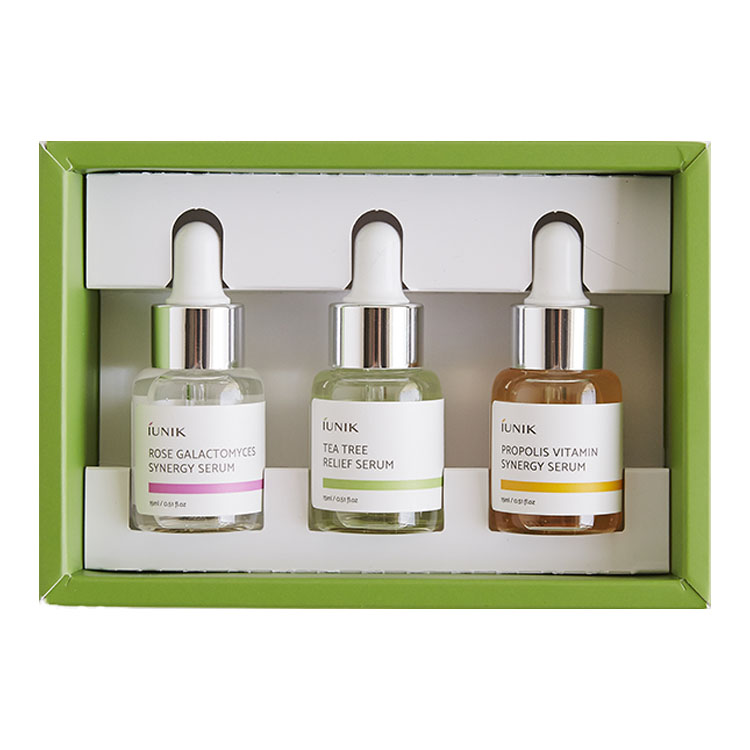 Don't they look yummy in those colours? 
Rose Galactomyces Synergy Serum 15ml
What are Galactomyces? Its full title is actually Galactomyces Ferment Filtrate. This very ingredient is what the whole of SK II is built on. 
A nutrient-dense yeast.
So what nutrients are there in this healthy yeast?
Amino acids, organic acids, and antioxidants. 
How do these translate to healthy skin?
Obstructs melanin production (bye bye pigmentations!)
Gets rid of blackheads and shrinks open pores (making it perfect for an after-facial serum like our detox facial and the microneedling facial). 
Strengthens skin barrier.
Reduces inflammation.
Balances oil secretion.
With Rose water, it provides moisturising and nourishing care to your skin.
Tea Tree Relief Serum 15ml
With added Centella Asiatica water apart from Tea Tree Extract water, it soothes, calms and moisturises the skin. Perfect for sensitive skin types. Whitens skin and improves the appearance of fine lines and wrinkles. 
What else does Tea Tree water do?
Antibacterial, antiseptic and anti-fungal. 
It cleans your face of bacteria, germ and dirt fighting any acne formation. This is why Tea Tree had been the hype for acne prevention due to these above properties. 
Propolis Vitamin Synergy Serum 15ml
What is propolis?
Propolis is derived from Bee Pollen, where it helps reduce the appearance of wrinkles and smoothes out skin. Leaving you with an after-softer skin than before.
Due to its highly moisturising and soothing properties, it is perfect for sensitive skin types too. 
It also brightens your skin tone. 
Click me to get this little bundle of goodness. 
3. Sunscreen!!! An unbreakable rule. 
This is a hybrid sunscreen that has both chemical and physical (mineral) filters!
Wondering what the differences are?
Physical filters
The work by forming a physical layer on top of your skin to reflect away UVA/UVB rays. This type of filters, covers a broad-spectrum of protection. It also helps prevent hyperpigmentations and wrinkles from forming. 
Chemical filters
Chemical filters are absorbed into your skin. So when UVA/UVB rays hit, the product absorbs it all before your skin could absorb it. Chemical filters does not leave a white cast over your skin, making it more appearance-friendly to most people. 
For this hybrid product, it provides exceptionally high skin-support and protection from external damage. It is lightweight, fragrance-free and leaves no white cast behind!
Application is easy as this product just melts on your skin upon contact. 
We say, this sunscreen will be easy and good for your travels! 
4. Mask before sleep!
Long day of walking around a foreign town or city got you huffing and puffing your way back to your room to wind down for the night. 
We recommend doing either a hydrating mask or an acne targeting mask!
Based on my own experience with this highly hydrating mask, I highly recommend it to everyone facing dry skin issues or simply want restored hydration. 
Triple Hyaluronic Acid that penetrates the three layers of your skin, epidermis, dermis and hypodermis. 
We should know by now how intensely hydrating hyaluronic acid is for us. To top it off, ISNTREE uses quality ingredients, resulting in this quality product. 
We hope you like it as much as we do!
Pro tip: Store it in the fridge for added coolness!
 What to do if you've got a huge pimple half way through your trip?
We've got you covered. Bring a few pieces of this Spot Saver Mask by ISNTREE along for these type of nights or mornings.  
What it does:
Soothes and calms irritated and sensitive skin. 
Tackles acne, blemishes and dryness of skin. 
Balances oil and water levels within and on skin.
With Mugwort extract, a herb known for its detoxifying and soothing properties. 
Perfect for all skin types and stressed out skin! Your holy-grail for a taxing day.
With these said, we'll be coming up next with a post about how to prep for your skin before travelling abroad! 
We always want to look good for exciting events such as travelling.. So skin-prep prior to it should be considered! 
Wishing you a nice and fun trip as you recharge and fight external aggressors with good skincare! 
<3
Fickle Beauty Team